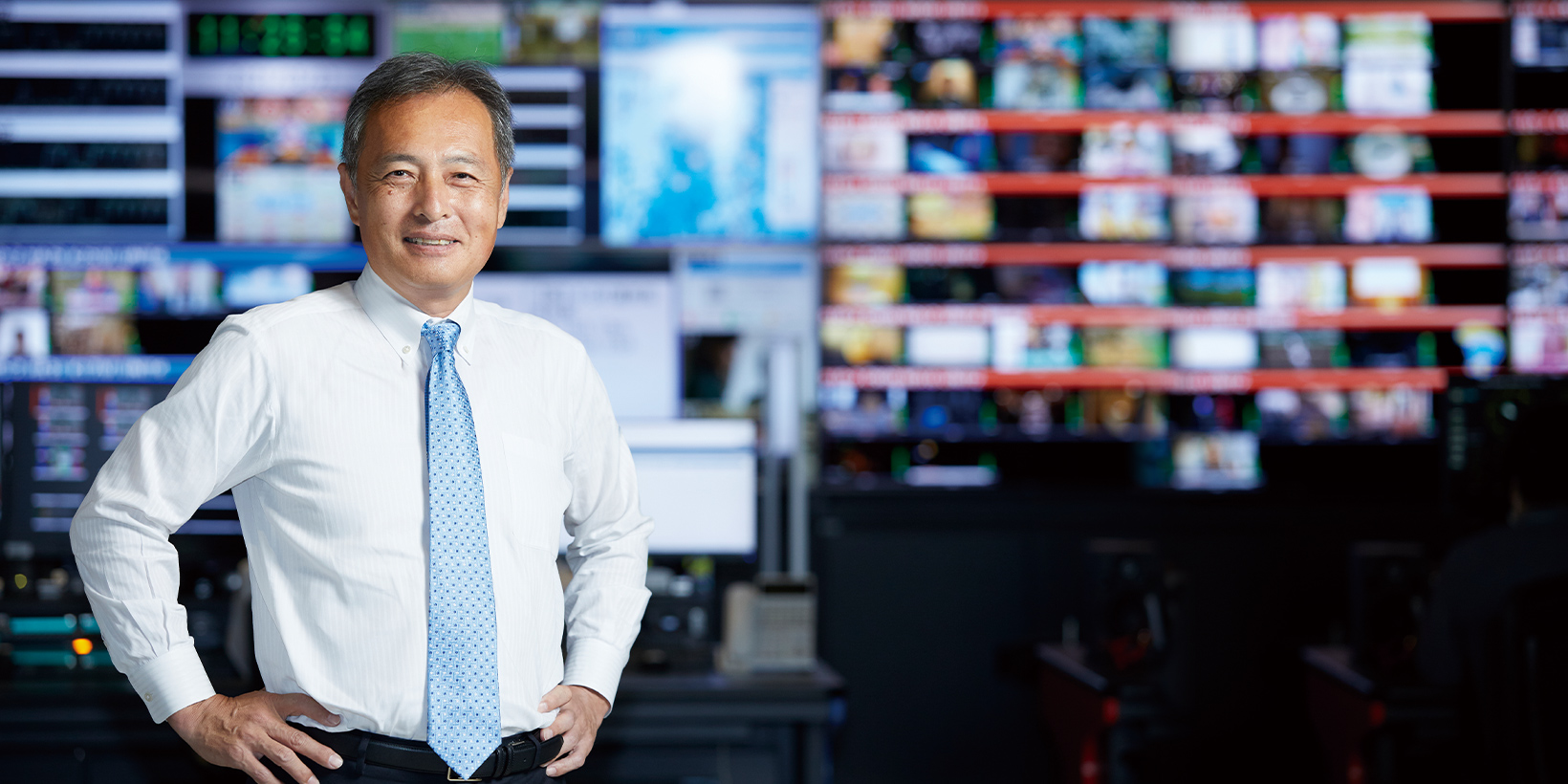 We will diversify our business and earnings by expanding and developing our FTTH, distribution, and BtoB businesses centered on the broadcasting business.
Board Director
(Unit President, Media Business Unit, SKY Perfect JSAT Corporation)
Business Climate
We recognize that the Media Business faces an extremely severe business environment. As customers' content needs and viewing patterns diversify, we are in an increasingly fierce competition with providers of flat-rate and free over the top (OTT) online video distribution services. Furthermore, in fiscal 2020, the COVID-19 pandemic resulted in opener postponement of sporting events, which were expected to generate stable earnings as season products, as well as the waves of cancellations of major music events featuring popular artists. On the other hand, stay-at-home measures in response to COVID-19 have increased demand for video broadcasting and distribution contents that can be watched at home, the so-called "nest-dweller" consumption. In addition, the number of households subscribing to optical fiber lines (FTTH) has risen with the growing need for Wi-Fi at home, and demand for TV re-transmission services through optical fiber lines is also growing.
Review of Fiscal 2020
Intensifying competition with OTT service providers and other factors contributed to the continued net decrease in subscribers. As a result, subscription fee revenue dropped ¥3.9 billion, decreasing fiscal 2020 operating revenues of the Media Business by ¥6.0 billion year on year to ¥91.6 billion. However, operating expenses fell by a larger margin of ¥9.0 billion, increasing operating profit by ¥2.9 billion to ¥6.0 billion. Segment profit after taxes decreased by ¥150 million to ¥4.4 billion due to the absence of special factors that caused a plunge in tax expenses in the previous fiscal year. The impacts of COVID-19 made the business climate severer than past years. In such an environment, the SKY PerfecTV! Basic Plan, which allows subscribers to have access to 50 channels on up to three TV sets for the price of just one at no extra charge, obtained high customer satisfaction, increasing subscriptions to 629,000 as of the end of March 2021 (up 124% year on year). In addition, in November 2020, we introduced a collaborative model for FTTH in the Tohoku area, sharing broadcasting facilities with a cable television service provider to improve business efficiency while expanding our service area. The number of connected households reached 2.44 million as of the end of fiscal 2020.
Existing business structure reforms began to manifest effects, such as reorganization of self-produced programming and the streamlining of customer center and broadcasting center operations. This, coupled with the curbing of sales promotion-related expenses due to COVID-19, contributed to a substantial increase in operating profit.
Outlook for Fiscal 2021
Fiscal 2021 operating revenues of the Media Business are expected to drop ¥19.6 billion year on year to ¥72.0 billion. Of this amount, the ¥20.0 billion drop in revenue is mainly due to the application of the Accounting Standard for Revenue Recognition. Operating profit is forecast to decrease by ¥2.8 billion to ¥3.2 billion mainly due to upfront investments in future growth. Segment profit is forecast to decrease by ¥1.9 billion to ¥2.5 billion. While we projected that the cumulative number of subscribers will decrease by 87,000, we will strive to keep subscriptions at the 3 million level.
Under these circumstances, the broadcasting business will first focus on increasing customer satisfaction through the popular SKY PerfecTV! Basic Plan and on "fan marketing," which has been conducted since 2020. We will aim to build long-term relationships with our customers by not only delivering contents but also staying attuned to the needs of fans and providing new experiences that will give them greater satisfaction, such as holding events, selling merchandise, and communicating through social media.
Furthermore, we will promote aggressive investment in the distribution business for future growth. In the second half of the fiscal year, we plan to renew SKY PerfecTV! On-Demand.
In addition, we will make a full-scale entry into the BtoB business by utilizing our existing assets. We have launched Media HUB Cloud to meet the video distribution needs of Japanese and foreign companies, and in collaboration with PLAY, inc., we will provide an easy, low-cost, and highly reliable distribution method by utilizing our broadcasting centers and other facilities as a hub for video distribution. We hope to make fiscal 2021 a year to cement the foundation for diversifying our business and earnings.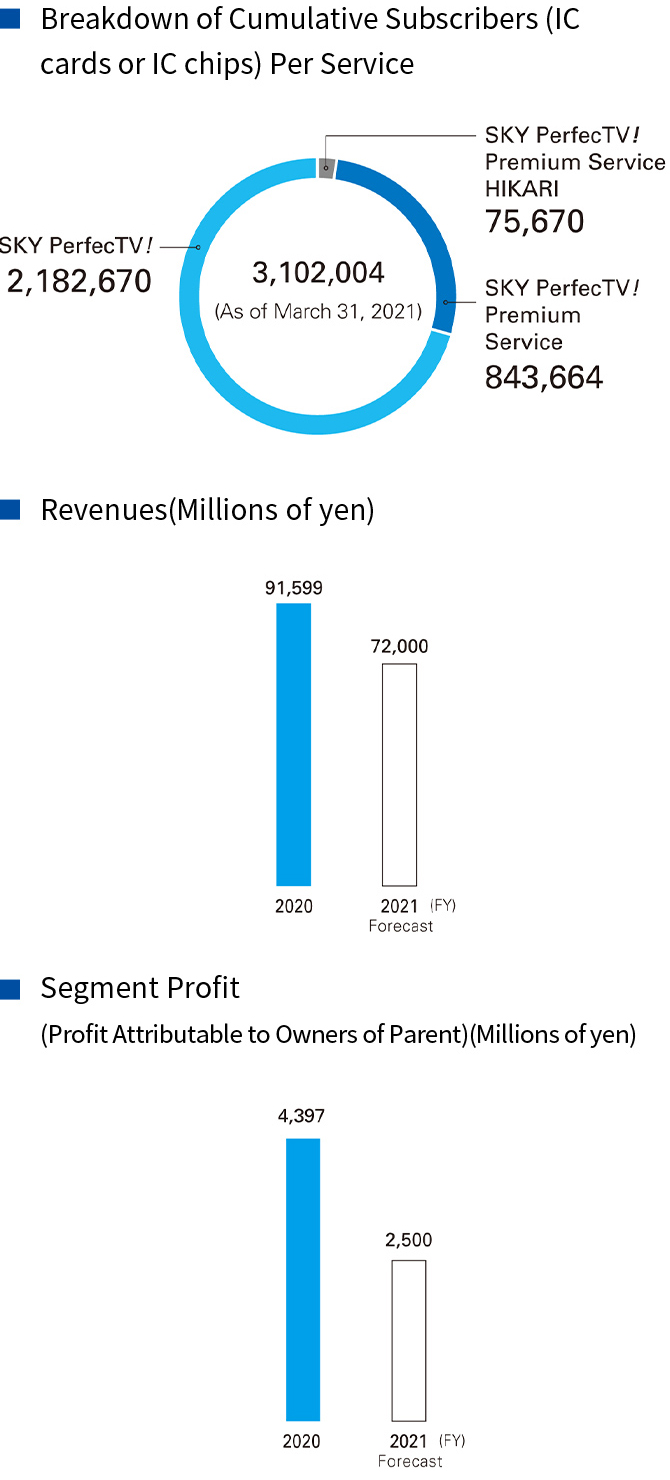 Business Vision and Business Strategy
The Japanese OTT market is expected to grow further with the launch of 5G high-speed, large-capacity communications services in 2020. Against this backdrop, we will leverage the features of SKY PerfecTV!, which has more than 100 channels, to meet a wide variety of viewing needs, and provide value that more closely responds to the wishes of core fans. In addition, in the FTTH business, which allows customers to enjoy terrestrial and BS broadcasting as well as SKY PerfecTV!, the number of households that can receive TV re-transmission service is now approximately 32 million in 33 prefectures. We anticipate further service coverage expansion and steady growth. Alongside continuing to focus on acquiring subscribers to multichannel pay TV services through FTTH, we will also endeavor to provide new services that take advantage of our well-developed communications infrastructure.
In the broadcasting business, we will continue to reform our cost structure while stopping the decline in subscribers and earnings. We will also secure our earnings foundation by expanding the FTTH business. At the same time, efforts will be made to diversify our services. We believe that it is necessary to develop ourselves into a brand that supports lifestyles across generations by expanding our business domain, which will include not only conventional services centered on video contents but also things and events.
To achieve this, we will first strengthen our OTT services. Up to now, we provided SKY PerfecTV! based on the concept that the broadcasts can also be viewed online. However, the distribution market is rapidly expanding due to changes in people's viewing patterns and the convenience of being able to watch broadcasts at any time of day. Therefore, we will renew our services to increase our competitiveness against rival OTT service providers. In the future, we aim to evolve our services into a user-friendly video platform that integrates broadcasting and distribution for seamless access to TV and smartphone services.
We will also develop the BtoB market. Beginning with the Media HUB Cloud service, we will take advantage of our broadcasting and distribution assets and multichannel broadcasting operation experience to promote the media solutions business, targeting not only content providers and service providers but also general companies, and develop this business into a new pillar of revenue.
Offering Value-Added Services and Contributing to the Enrichment of People's Lives
To realize a society that recognizes diversity, the Media Business will continue to offer contents in a range of genres, including sports, anime, Japanese/foreign movies and dramas, hobbies, and news, and increase SKY PerfecTV! brand loyalty as a service that enriches people's lives. In addition, we will make full-scale efforts to expand our business domains and diversify earnings by leveraging our technical knowledge in branching out various video sources, along with our equipment that is capable of online distribution and our strength in having a customer base of approximately 5.5 million combining multi-channel subscriptions and TV re-transmission services.
Promoting fan marketing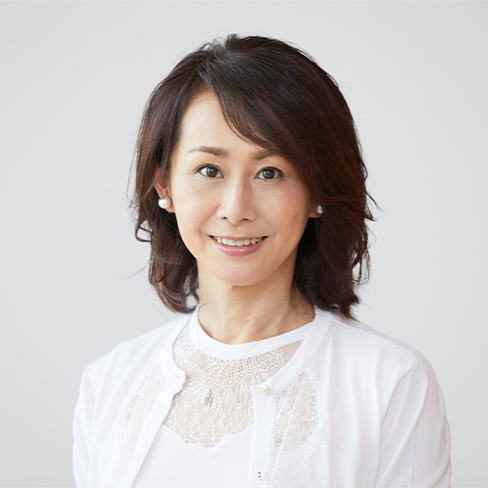 Shizuka Akashi
Media Business Unit
Media Business Group
General Manager,
Entertainment Genre Business
Division
Our customers are fans. Fan marketing is activities designed to convince customers that SKY PerfecTV! knows what fans want and leave customers believing there is value in enjoying entertainment on SKY PerfectTV! We start doing this by understanding what the fans of various genres appreciate and value and then carry out activities that meet the preferences and viewing needs of individual customers.
A concrete example is "Solo Fes!" that garnered positive reactions from viewers. In the TV program, all members of the female idol group Hello! Project sang solos. A perk for the fans was that they got to vote for the winning singer, and a TV program was then created and named after her. It was a very popular show as fans could participate and feel as though they were part of the making process. The show emerged from the needs and ideas that were shared in a survey of 100 Hello! Project fans.
Going forward, we will strengthen our approach to the older generation who enjoy enka music and period dramas. We will continue to offer entertainment that only SKY PerfecTV! can provide, and we hope to build deep and long-lasting relationships with our customers.