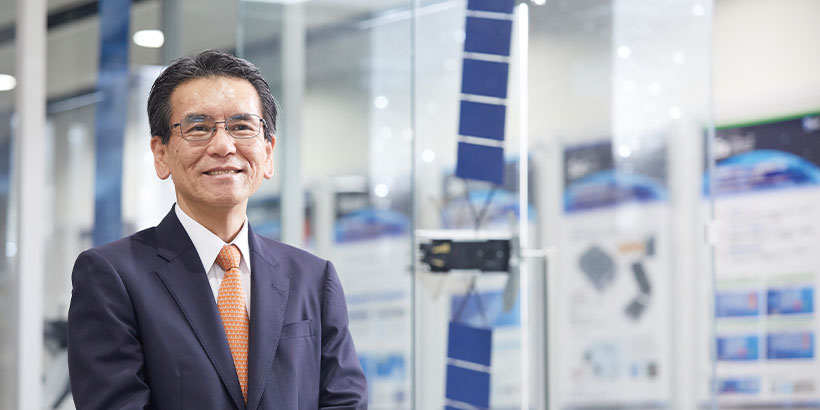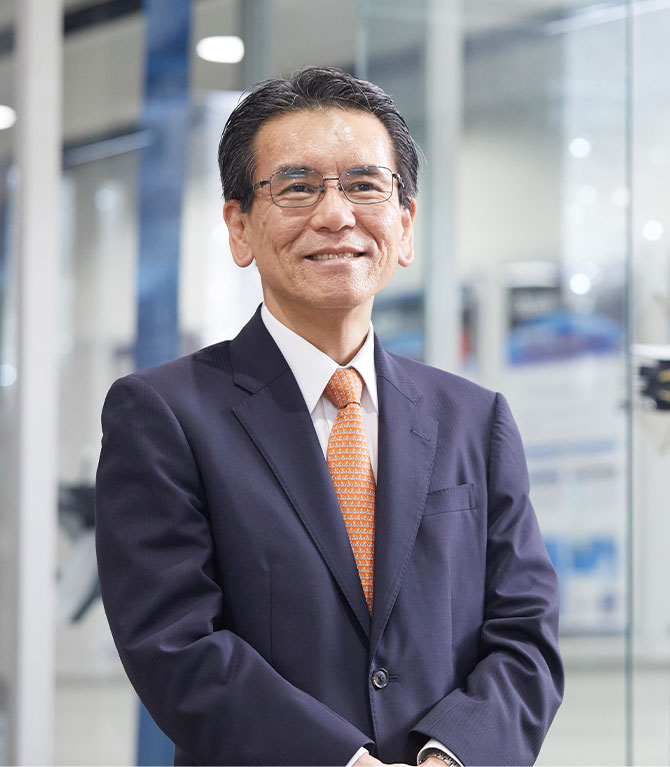 We are aiming for sustained
growth through business
expansion in the global and
mobile field and new domains.
Representative Director
(Unit President, Space Business Unit,
SKY Perfect JSAT Corporation)
SWOT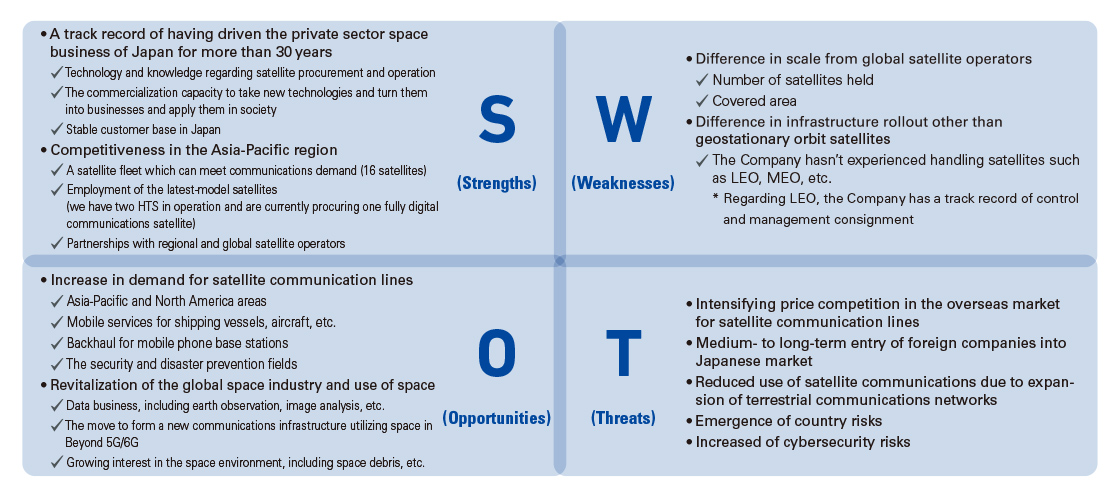 Medium- to Long-Term Business Strategy
Regarding satellite communications services, in order to expand our business in the global market, we plan to commence a service using the Superbird-9, which is equipped with the latest technology called "flexible payloads," a first for Asia, in fiscal 2025. This will be the successor to Superbird-C2, which is currently in operation, and it is a fully digital communications satellite which enables flexible on-orbit changes of coverage area and transmission capacity in line with market and customer needs.
Through this initiative, we will increase the competitiveness of our existing services while also accelerating our entry into new domains. It is thought that the space industry will play an important role in the super smart society (Society 5.0) in which a variety of objects are connected via data. The Company commenced the space intelligence business initiative from 2019 and has built the foundation of a solutions business utilizing satellite data in a wide range of domains.
Specifically, in order to commercialize a satellite data analysis information service useful for ascertaining the situation at times of disaster and for continuous national territory and infrastructure monitoring at normal times, etc., the Company was among the six companies that established Satellite Data Services Co., Ltd., and the new company aims to provide a full-scale service from fiscal 2023. Furthermore, in December 2021, the Company took a stake in iQPS Inc. as the lead investor in that company's Series B round.* This company is a venture company which is aiming for the realization of the world's first near real-time earth observation system using a high-resolution small SAR (Synthetic Aperture Radar) satellite. Through our business alliance with this company, we will advance the development of a satellite data business utilizing a small SAR satellite constellation which can observe a wide area of the earth periodically and automatically.
Moreover as a medium- to long-term initiative, we are focusing our efforts on building a Universal NTN (non-terrestrial network) which connects different spaces, such as the sea, sky, and outer space, etc., to each other via not only satellites but also diverse communications platforms such as the high altitude communications platform (HAPS), etc. For that reason, we have concluded a business alliance agreement with NTT Corporation regarding the space integrated computing network concept which fully utilizes space as ICT infrastructure. In fiscal 2022 as the first step under that agreement, we established the Space Compass Corporation, a joint venture, and we are aiming to create a space data center business (optical data relay service, etc.) and a space RAN business. In addition, as a government project, we are tackling research and development toward realization of a quantum cryptography communications network using satellite communications.
In the Space Business, going forward we will make an investment on over ¥150.0 billion in new domains including NTNs and we intend to realize a segment profit after tax of ¥21.0 billion in fiscal 2030.
* Series B round: the funds procurement round at the stage when the services and products have been evaluated and the business has begun to get off the ground.
Key Issues and KPIs in the Space Business
Key issue themes

Key issues
(materiality)

Long term
Short term
KPIs/Results
Long-term goals (ideal state for 2030)
Short-term goals to achieve
Fiscal 2021 Results
Building resilient broadcasting and communications infrastructure
Eliminating digital divide
Provision of broadcasting and communications
infrastructure to any areas and in any environment
Give connectivity to everything on the planet seeking connection, and constantly provide reliable services, at any time
By developing disaster-resistant broadcasting and communication infrastructure and expanding our reach, we will provide connectivity to all "people who seek connection" on the planet at any time, anywhere
Expand the usage bandwidth of our satellite fleet from the previous fiscal year
Bandwidth of our satellite fleet: +51% compared to FY2020
Support of BCP and relief and recovery through provision of disaster-resilient broadcasting and communications infrastructure
Expand the usage bandwidth of our satellite fleet from the previous fiscal year
Bandwidth of our satellite fleet: +51% compared to FY2020
Initiatives to enhance reliability and sustainability of satellite communication services through technological innovation
Improve service reliability by building partnerships to share backup satellites and control stations among satellite operators
Reduce the number of major service breaks to zero each year

Number of critical service cuts: 1 (One) incident
* Duration: Approx. 6 hours
* Impact area: all over Japan and Southeast Asia

Contributing to the environment to make a decarbonized society and recycling-based economy a reality
Support partner companies for reduction of CO2 emissions using satellites
Expand its contribution to renewable energy power generation and supply
Expand the amount of renewable energy generated by user companies of a solar power generation output prediction service
Aiming to systematize and develop the business of Hybrid Solar Power Generation Output Prediction service with utilizing artificial intelligence, satellite images, and the whole-sky images retrieved by integrated ground sensors after FY2022 with the Central Research Institute of Electric Power Industry.
Expand the supply of renewable energy project with Challenergy Inc., a company known for wind power generation
Number of Challenergy Projects: Operation of Challenergy's Magnus wind turbines in the Philippines started in June 2022.
Satellite internet service using electricity generated by the wind turbines is also scheduled to start
Improving space environment
Initiatives to remove space debris
Establish a space debris removal service as a business
Realize commercialization of space debris removal services
Progress in commercialization of space debris removal services: Laser technology development, advanced mission analysis, design, and market research, etc.
Promoting innovation which contributes to the environment and society
Development and promotion of remote sensing
Contribute to environmental conservation and social development by evolving businesses that utilize remote sensing
Expand remote sensing projects

Specific examples of the use of remote sensing:

Slope monitoring
A time series analysis of subsidence and uplift using SAR data with a partner company for a landslide
hazard warning area
Reservoir monitoring
InSAR analysis on high-resolution optical images of debris in the reservoir. (Final report in May 2022.)
Case 1 Elimination of the Digital Divide, Taking Advantage of Characteristics of Satellite Communication, and Utilization of Satellite Communication in the Event of Disaster
Through wide coverage, multi-destination distribution, and mobility, satellite communication makes it possible to secure means of communication, including the Internet, in areas such as mountainous regions and remote islands where terrestrial lines cannot be installed, with electric power and antenna that are capable of receiving electric waves.
Through this system, what was once inconvenient becomes comfortable, and this helps to reduce the digital divide among regions. Such merits are not limited to Japan. This expansion of the communication environment contributes to the elimination of disparities in areas such as education, economy, and technologies in the least developed countries.
Moreover, as satellite communication is not much affected by natural disasters like earthquakes on the Earth
and due to its high-mobility nature, the use of VSAT (Very Small Aperture Terminal) and vehicles with Satellite News Gathering Systems, makes mobile phone services and Internet communication available even in disaster-affected areas. Furthermore, satellite communication is useful in the provision of relief and medical care in disaster-affected areas in the recovery phase.
Based on the Guidelines concerning Certification for Organizations That Contribute to Strengthening National
Resilience (February 2016, the National Resilience Promotion Office in the Cabinet Secretariat), SKY Perfect JSAT Corporation awarded of resilience certification (business continuity) from the Association for Resilience Japan.
Case 2 Provision of a Service Combining Satellite Communications and Wind Power Generation to Southeast Asia and Pacific Island Countries
The Magnus Vertical Axis Wind Turbine 

In a partnership with Challenergy Inc., a company known for typhoon power generation, SKY Perfect JSAT is conducting collaborative activities aimed at operationalizing services that combine stable wind power generation with satellite communications in digitally divided areas of the world, such as Southeast Asia and Pacific island countries, where both power generation and communications infrastructure are underdeveloped.
The Magnus Vertical Axis Wind Turbine that Challenergy has developed has excellent environmental flexibility, with fewer environmental concerns in terms of noise pollution and bird strikes than conventional propeller-type wind turbines, and the capacity to achieve stable power generation both during favorable weather conditions and when there are typhoon-level winds or turbulence. Satellite communication offers the advantage of providing high-level communications service to digitally divided regions, such as remote islands and mountainous
regions, and disaster recovery communication platforms for use after a largescale disaster. This is expected to be the first technology in the world to succeed in harnessing electric power and communication to help the people living in these areas achieve a more modern way of life, instead of using unstable diesel power generation infrastructure, which is expensive and places a greater burden on the environment.

We began offering this service in the Philippines through InfiniVAN, Inc, a consolidated subsidiary of IPS, Inc., as the first introduction.
In the rural areas and islands of the Philippines, there are many areas where high-speed communication
networks such as fiber optics are undeveloped. With the spread of online classes and telework on the occasion of the spread of COVID-19, demand for satellite Internet connection services that can quickly install and use broadband environments is also increasing. Until now, InfiniVAN has expanded its mission-critical communications network for high-capacity Internet services, starting in urban areas in the Philippines. However, the addition of satellite Internet connection services provided by the SKY Perfect JSAT to its service lineup will enable it to meet high-speed Internet demand in wide areas in urban areas and rural areas without the introduction of large-scale facilities such as the construction of mobile base stations.
From "Connecting" to the Solution of Social Problems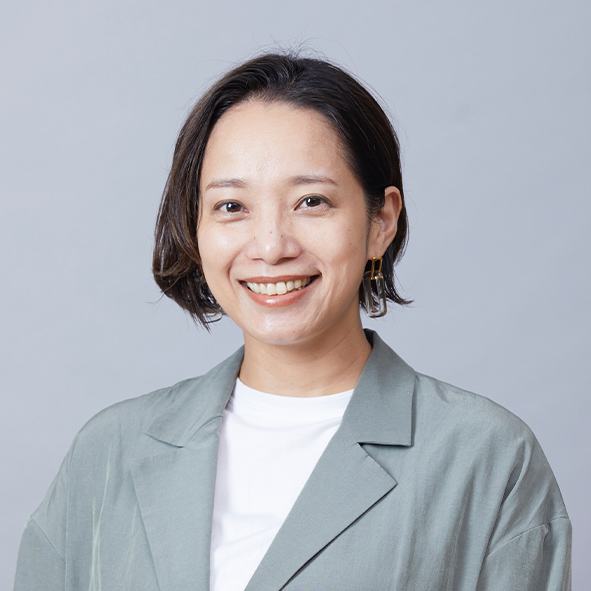 Nao Shigenari
General Manager
Mobile Business Division
Global Business Group
Space Business Unit
SKY Perfect JSAT
Corporation
In the Mobile Business Division, we provide satellite communications services for the mobility network, namely airplanes and shipping vessels. There were times when the demand for Internet access lines for aircraft dropped due to the impact of the spread of COVID-19, but recently there has been a marked recovery trend, particularly on domestic routes. Many people may have had the experience of using in-flight Wi-Fi, recently the number of people using in-flight content and internet by connecting with private smartphones or tablets has been increasing. SKY Perfect JSAT Corporation has already commenced provision of the HTS JCSAT-1C in order to meet the increase in demand going forward, and it plans to commence service of the fully digital satellite Superbird-9 in fiscal 2025; furthermore, it is also enhancing its ground facilities to further meet the needs of its customers.
Regarding services for shipping vessels, in addition to the existing OceanBB plus service, we newly commenced the JSATMarine service in January 2022. All of the satellites used are composed of satellites of the Company only, so we have become to provide a high-level service in terms of quality and security at a reasonable price.
Furthermore, in the previous fiscal year, we participated in the Joint Technology Development Program for Demonstration Tests of Fully Autonomous Ship Navigation in Fully Autonomous Ship Program MEGURI2040 being implemented by the Nippon Foundation, and as professionals in satellite communications we were involved in the provision of the satellite communication lines and the development of the data control system. Communications connecting the land to the ship are essential for fully autonomous navigation, but we confirmed that satellite communications are effective as one means of communication, and contributed to the success of the fully autonomous navigation demonstration tests.
In the coastal shipping of Japan, the aging of crew members, with 50% of them being at least 50 years old, and also securing young crew members, and workforce management, etc., have become issues. We believe that if satellite communications with an always-on connection are available, then expansion of the benefits packages for crew members, online workforce management, streamlining of navigation management, prevention of accidents at sea by ascertaining the position information of shipping vessels, etc., and cargo management utilizing IoT data, etc., become possible, and this would lead to solution of the problems faced by coastal shipping.
Going forward we will continue to work as hard as we can together with all of our customers and partner companies so that we can move from the function of "connecting" airplanes and ships which had no internet connection to assuming a role that contributes to the solution of social problems.