The spread of COVID-19 continues to create a serious situation both domestically and globally. I would first like to take this opportunity to extend my deepest gratitude to the healthcare workers and all others who are working tirelessly to control the pandemic.
Summary of Fiscal 2020 Results
In fiscal 2020, consolidated revenues remained comparable to those of the previous fiscal year, despite concerns about the impact of the COVID-19 pandemic on performance. In the Space Business, the newly launched JCSAT-17 as well as Horizons 3e, a High Throughput Satellite (HTS) that significantly boosted transmission capacity more than ever before, contributed to earnings growth. The Media Business continued to face a difficult business climate due to intensifying competition for customers with online video distribution services and competition for contents, particularly sports content. Nevertheless, the cumulative number of subscribers for SKY PerfecTV! multichannel pay TV broadcasting stayed at over 3 million. Alongside these trends, operating expenses of the Media Business fell sharply. As a result, consolidated operating profit for fiscal 2020 increased by 26% year on year, while profit attributable to owners of parent increased by 11%.
Aiming for Sustainable Growth
The business climate in which the Group is situated has approached a major turning point against the backdrop of digital technology innovation. In such an environment, we have adopted and are implementing the SKY Perfect JSAT Group "Plan 2020+" as our management policy, which aims for fundamental reforms of management and business structure based on the three pillars of "REPOWERING (Human Resources)," "REBUILDING (Business)," and "REBRANDING (Company)" for sustainable medium- to long-term growth.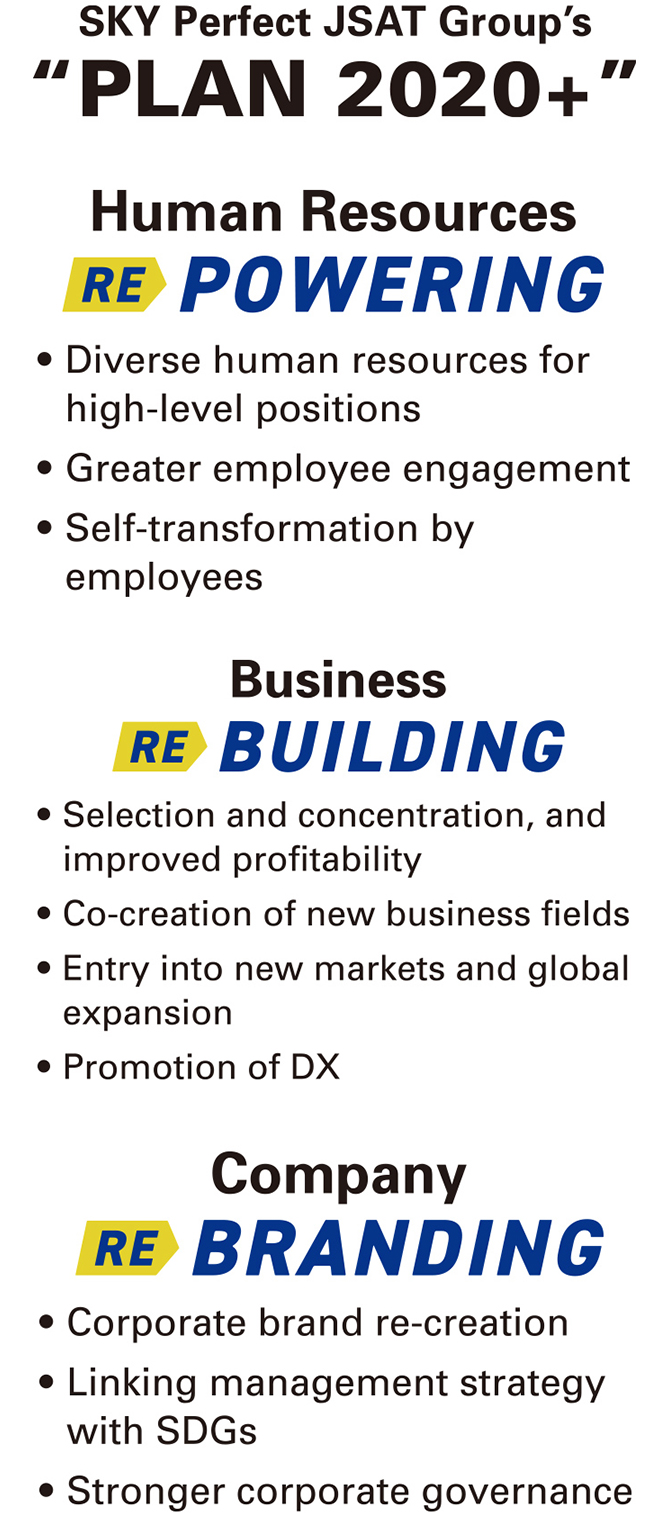 In the REPOWERING pillar, which focuses on employees, COVID-19 has prompted the Group to realize flexible work styles that are not restricted by location or time and develop arrangements for smooth business execution, mainly by working from home. We have also aggressively selected young and mid-career employees to key positions. With the aim of becoming a more productive, creative, and resilient company, we will continue to implement organizational reforms that will enable each employee to transform themselves and maximize their performance in order to put our mission, "Space for your Smile," into practice.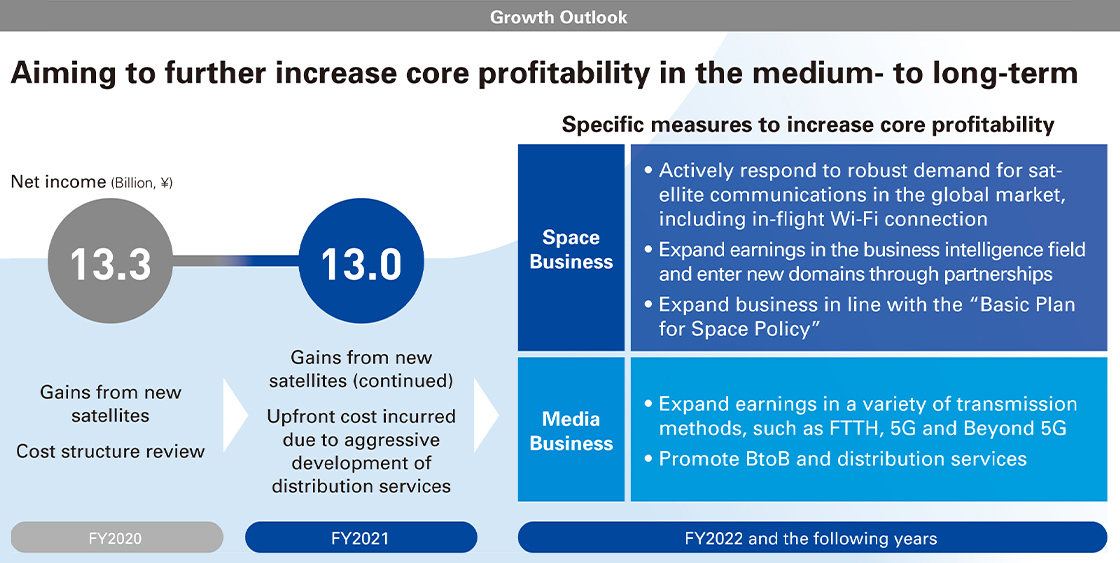 The Business REBUILDING pillar seeks to strengthen the Group's core profitability over the medium- to long-term. The Group aspires to improve profitability through a rigorous process of selection and concentration of services, in addition to developing new business fields with a range of domestic and overseas partners.
Space Business
In the Space Business, we will strive to improve profitability by both (1) strengthening existing services and (2) utilizing new technologies and expanding business domains. Our medium- to long-term vision is to expand our business field to spaces ranging from the sea and land up to outer space, extending beyond the conventional satellite communications services in the geostationary orbit. We will utilize the various data obtained from these spaces to create a space intelligence market.
We will strengthen our existing services by establishing a stable earnings foundation. The Group will increase the provision of satellite connections, such as backhaul lines for mobile phone base stations, where the use of satellites is expanding in Japan and overseas, and steadily capture demand in the global market, including through provision of Wi-Fi connections on shipping vessels and aircraft. In addition to Horizons 3e, which is already generating steadily increasing earnings in the AsiaPacific region, our other HTS, JCSAT-1C, will contribute to achieving continued growth in the global market. In 2024, we plan to launch Superbird-9, a fully flexible satellite that will allow us to flexibly change the communications area and transmission capacity. We will be among the first to procure such satellites equipped with the latest technology to meet diverse satellite communications needs.
An example of utilizing new technologies and expanding business domains is the launch of Spatio-i, a business intelligence service that combines a variety of data, such as imagery obtained from space and location information, with AI analysis. We are also actively partnering with domestic and international companies and research institutions to expand our business domains. As part of these efforts, we have recently concluded a business alliance agreement with Nippon Telegraph and Telephone Corporation (NTT). We will sequentially begin technical demonstrations in 2022, aiming to start commercial services in around 2025. While developing technologies that will serve as our business foundation, we will aspire to realize integrated infrastructure required for a sustainable society, which will be made possible by building a space integrated computing network in Beyond 5G/6G. In addition, we will develop our own technology to remove space debris based on the concept of "SDGs in space," and will consider services that utilize next-generation technologies, such as satellite quantum cryptography.
Click here for
Space Business
Media Business
The Media Business is seeing major changes in content viewing styles with the spread of online video distribution services. Under these circumstances, we plan to address the following three challenges: (1) improving profitability through business structure reforms; (2) expanding and differentiating services; and (3) acquiring new revenue.
First, to improve profitability through business structure reforms, we are reviewing cost allocations from the perspective of improving both quality and customer satisfaction on the one hand and profitability on the other. This covers everything from content acquisition and marketing to customer centers and broadcasting facilities.
We are also making efforts to expand and differentiate our services. As the number of hours people spend at home increases, we have seen a steady rise in subscriptions to the popular SKY PerfecTV! Basic Plan. This plan offers unlimited access to 50 channels per TV connection and charges no additional fees for up to three TV connections. In addition, we are working to increase subscriber loyalty by engaging in fan marketing that offers a variety of ways to enjoy SKY PerfecTV! beyond conventional broadcasting services. Fan marketing, such as holding events, selling merchandise, and communicating through social media, targets subscribers who have a strong passion for a wide range of genres. Increased use of Wi-Fi at home has led to more households subscribing for optical fiber lines. The number of households contracting FTTH services exceeds 2.4 million and continues to grow. In the second half of fiscal 2021, we plan to completely renew our on-demand services, aiming to build a new contents platform that integrates broadcasting and distribution in the future. Furthermore, to acquire new revenue, we will enter the BtoB market in the Media Business. Specifically, we have partnered with PLAY, inc., which provides one of the largest online video platforms in Japan, and launched the Media HUB Cloud business to support Japanese and foreign video distribution services. By effectively utilizing our broadcasting platform with over 100 channels, we will meet the needs of companies and businesses that wish to provide contents easily to distributors or distribute overseas contents over the Internet, and diversify our revenue sources.
In the medium- to long-term, we will develop SKY PerfecTV! into a brand that not only provides contents for enjoyment but also supports people's lifestyles. We intend to transform SKY PerfecTV! into a service that supports customers' lifestyles encompassing people, things, and events, in addition to contents.
We will also work to create services that link the two seemingly disparate businesses of space and media. For example, we will create a BtoC business from our Space Business services, which support social infrastructure and lifelines, and combine it with SKY PerfecTV! If we can thereby introduce new experiences into people's lifestyles, I believe we will be able to further leverage the uniqueness of the Group and differentiate ourselves from our competitors.
Click here for
Media Business

In October 2020, we launched a corporate branding campaign under the slogan "Our Unlimited Vision, Your Practical Value." We are branding ourselves for an appropriate corporate valuation by renewing our corporate image, which tended to be biased toward the multichannel pay TV broadcast service, SKY PerfecTV!, and portraying ourselves as a Group that continues to take up unique challenges.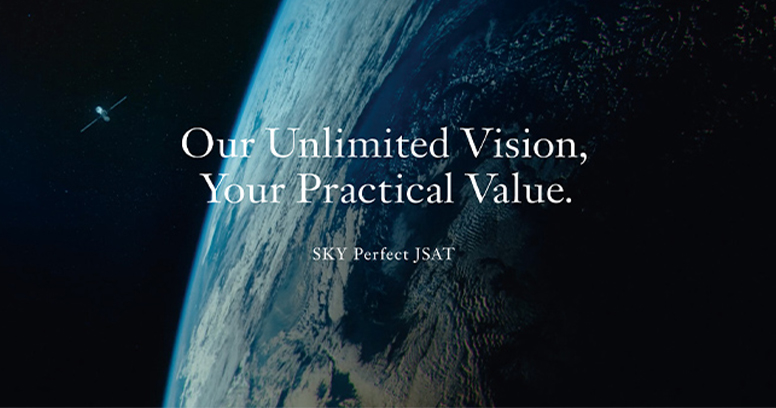 Deepening Sustainability Management
Since its founding, the Group has been developing its business in the highly public domains of communications and broadcasting and has been offering services that are useful to society. In addition, in September 2020, we established the Sustainability Committee in order to further promote initiatives to achieve the Sustainable Development Goals (SDGs), which are goals shared by the world, and to pursue sustainability management with which the Group remains needed by society and continues to grow sustainably. Under this structure, we considered which social issues we should address based on the SDGs and identified nine important themes (materiality), including "Building resilient broadcasting and communications infrastructure, eliminating digital divide," "Improving the richness of life through a diversity of content," and "Contributing to the environment to make a decarbonized society and recycling-based economy a reality." We will set specific KPIs and implement the themes.
As the one and only corporate group that can provide "practical value" based on an "unlimited vision" in business fields ranging from the ground to space, we will strive to enhance our corporate value by sincerely addressing social issues to which we are uniquely positioned to make a contribution. I would like to ask for the continued support of our shareholders and investors.