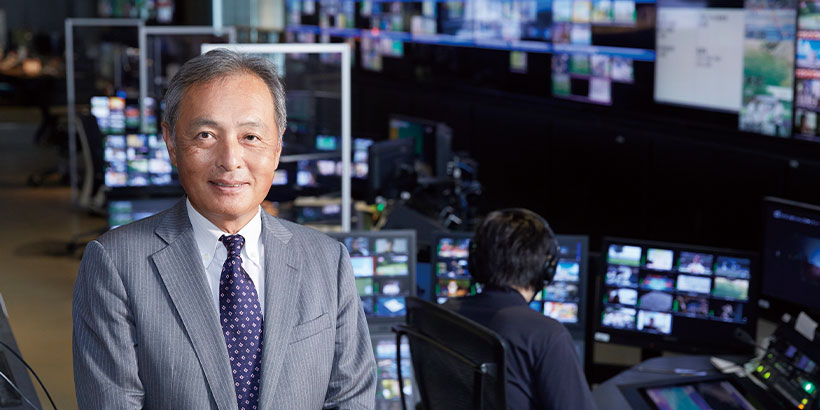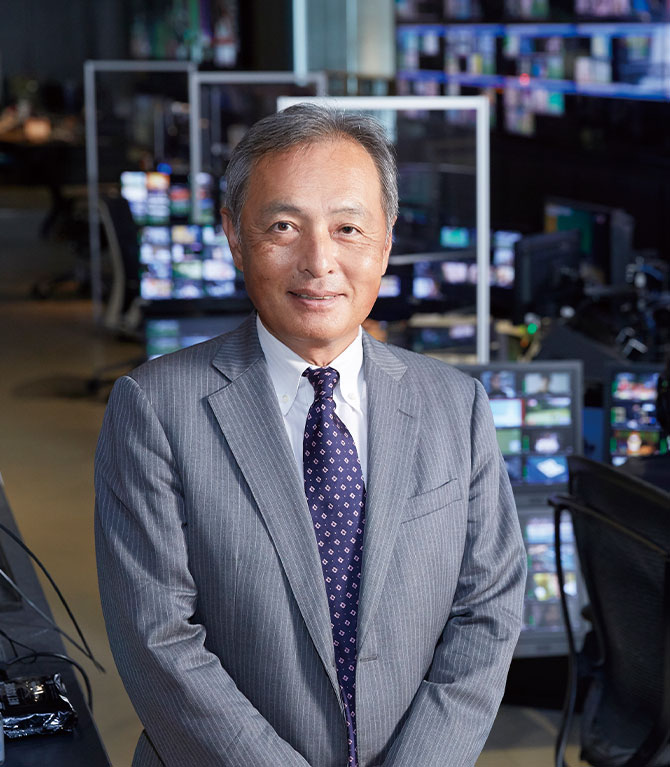 We will expand into new
domains while addressing a
diverse array of needs both in
distribution and broadcasting.
Board Director
(Unit President, Media Business Unit, SKY Perfect JSAT Corporation)
SWOT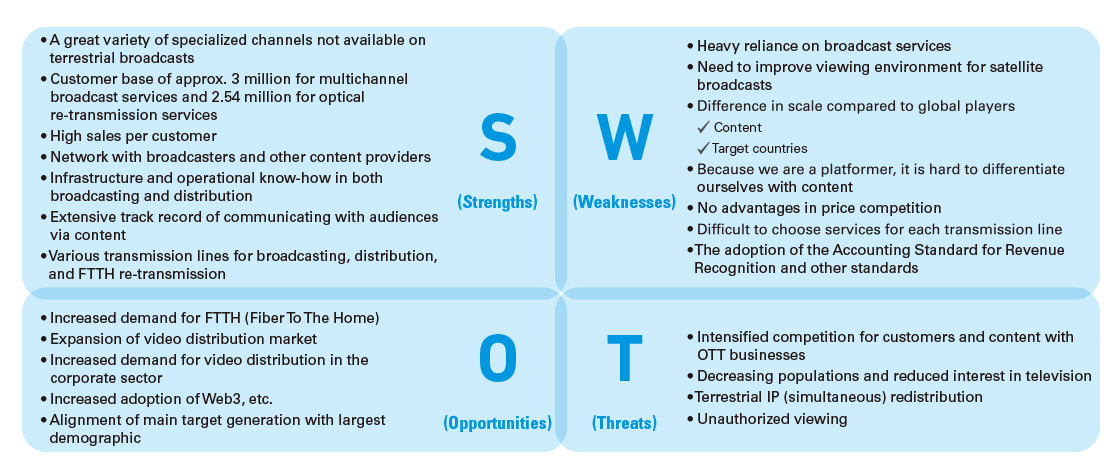 Medium- to Long-term Business Strategy
As a platform that connects people, companies, and society, the Media Business will expand beyond the fan
experience to encompass new experiences and help make a diverse and creative society a reality. To achieve
this goal, we will concentrate investment in new domains, which includes concerted efforts at forging business alliances and aim to achieve segment profit of ¥5 billion by 2030.
The number of subscriptions in our satellite broadcasting business is gradually declining due to fierce competition.
At the same time, we will expand our FTTH business, where subscriptions have been steadily increasing every fiscal year and promote diversification in our businesses and earnings through new business domains. In view of this, as we look toward 2030, we plan for a concentrated investment of over ¥50 billion in the Connected TV, Media Solutions, and Offline domains.
In the Connected TV Business, we will promote the development of dongles that allow users to view various types of video distribution services, both paid and free, on large screen TVs.
In September 2021, we invested in FreakOut Holdings, Inc. to build an advertising platform as part of our Connected TV business. Through our business alliance with this company, we aim to create businesses that use new advertising methods based on data on individual preferences and behavior.
In the Media Solutions Business, we will leverage our tangible and intangible assets to develop a solutions business that addresses corporate issues. The Media HUB Cloud, a video distribution support service that we began offering last year, allows us to act as a hub to support content providers and others by lowering their operational burden as they develop their distribution business.
We would like to take advantage of the track record we have achieved in the multichannel broadcasting business to secure around ¥1 billion in new revenue within the next few years, not only via content providers and service providers, but also by approaching corporations.
We're also working to create a content database that systematically manages the information necessary for video content to be utilized. Through the addition of plentiful and detailed information relevant to the content
in question via our unique system, we hope to stimulate the distribution of information and contribute to the
efficiency and spread of the video business.
In our approach to real experiences, we will offer real-life excitement to fans of various content through fan meetups, events, merchandise sales, and tours, allowing them to enjoy themselves through a fan's lens.
With regard to Bundesliga of Germany, in addition to broadcasting and rights through the 2025 season, our
partnership agreement will allow for joint marketing, and this November, Bundesliga clubs will be invited to Japan to host friendly matches with J-League clubs to deliver an exciting experience to Japanese soccer fans.
We are also working on other projects, including a virtual professional baseball camp in which viewers can participate via the Metaverse and a VR handshake event utilizing new technology.
Through this business strategy, we target a segment profit of ¥5 billion in fiscal 2030 by combining the existing businesses that form the foundation of our operations with new domains.
Key issues for Media Business and KPIs
Key issue themes

Key issues
(materiality)

Long term
Short term
KPIs/Results
Long-term goals (ideal state for 2030)
Short-term goals to achieve
Fiscal 2021 Results
Building resilient broadcasting and communications infrastructure
Eliminating digital divide
Provision of broadcasting and communications infrastructure to any areas and in any environment
Provide connectivity to everyone in the world seeking connections at all times, along with constant, reliable service
Provide connectivity to everyone in the world seeking connections anytime, anywhere by developing disaster-resistant broadcasting and telecommunications infrastructure and expanding coverage

Raise the number of households that can receive broadcasting services via optical fiber in addition to satellite to 35 million by 2023

Number of households capable of receiving broadcasting service: Approx. 34 million households
(as of end of fiscal 2021)

Newly launched in Toyama Prefecture in February, bringing total prefectures provided with
services to 35

Support of BCP and relief and recovery through provision of disaster-resilient broadcasting and communications infrastructure
Install wind-resistant 90m antennas and reinforce the rooftop structure at SKY PerfecTV

!

Tokyo Media Center
Install wind-resistant 90m antennas and reinforce the rooftop structure at SKY PerfecTV

!

Tokyo Media Center (Achieved)
Improving the richness of life through a diversity of content
Provision of a wide range of content via broadcasting, distribution, and various subscriber interfaces
Create an integrated media platform that broadens people's values by offering a variety of content and services
Facilitate encounters between people and content, and create a world where people can easily watch their desired content
Besides satellite broadcasting, provide more opportunities for people to enjoy content by making greater use of distribution services and interactive functions

Launched a new video distribution service, "SPOOX," in October 2021. "Value Plan"
launched in February 2022
Plan to make SoftBank Hawks camp available to be enjoyed on the Metaverse implemented
in January 2022

Promotion of content distribution by supporting entry of diverse content holders
Create a world where content owners (individuals and companies) can easily enter the content business
Create a mechanism for providing content providers with integrated functionality, including studio functionality and content transmission and distribution functionality
Launched Media HUB Cloud, a media solutions service for content providers, in June 2021
Appropriate action for content involving violence, human rights, discrimination, etc
Establish ethical guidelines for the provision of video content and set standards for our services
Establish detailed and appropriate guidelines for the content we provide, and revise them as necessary to keep up with the times

Established guidelines (internal regulations) for content we provide in October 2021

Promoting innovation that contributes to the environment and society
Provision of new value through upgrades of broadcasting and communication and technological development
Continue to provide new video and customer services to push society forward
Continue to introduce new services that increase customer value on an annual basis

October 2021: New distribution service "SPOOX/SPOOX EX" started
July 2021: "PLUSY" home appliance subscriber service launched
June 2021: Launched Media HUB Cloud, a media solutions service
July 2021: Launched apartment building video equipment maintenance service

Regional and community
development
Social contribution, taking advantage of characteristics of broadcast slots, programs,
commercials, etc.
Achieve the SKY Perfect JSAT Group Mission "Space for your Smile" through social contributions using our own infrastructure
Implement social contribution measures utilizing SKY PerfecTV

!

assets
Case 1 Emphasis on Expansion of FTTH Retransmission Service
We provide optical fiber-based retransmission service (FTTH) as well as satellite TV broadcast service. The optical fiber-based retransmission service enables subscribers to view terrestrial TV broadcasts, broadcasting satellite (BS) broadcasts, and SKY PerfecTV! without installing an antenna. Since September 2019, it has become possible to view all channels of new 4K/8K satellite broadcasting, including NHK's BS8K channel, via our retransmission service.
By installing a dedicated adapter, superior picture quality is available without refurbishment of the facilities at home.
Our fiber-based retransmission service can cover approximately 34 million households and over 2.5 million households are already subscribing to the service (as of July 31, 2021). We will expand the FTTH retransmission service area to increase the number of subscribing households and also aim to increase the number of subscribers of SKY PerfecTV! via optical fiber.
Case 2 Multi-channel Broadcasting Contributes to Creation of a Society Embracing Diversity
Our multi-channel satellite broadcasting TV platform, SKY PerfecTV!, offers more than 100 channels. Through
diverse channels, including anime, sports, Japanese and foreign movies and drama, hobbies, and news channels, SKY PerfecTV! offers viewers opportunities to get to know diverse cultures and values. In line with the diversification of lifestyles, we offer SKY PerfecTV! via various means, such as satellite, optical fiber, and internet, and for various devices, such as PCs, smartphones, and IPTVs.Subscribers can enjoy SKY PerfecTV! anywhere anytime without device constraints.
In October 2021, we also launched "SPOOX," a video distribution service that offers a variety of content, with over 30,000 titles.
Providing new visual experiences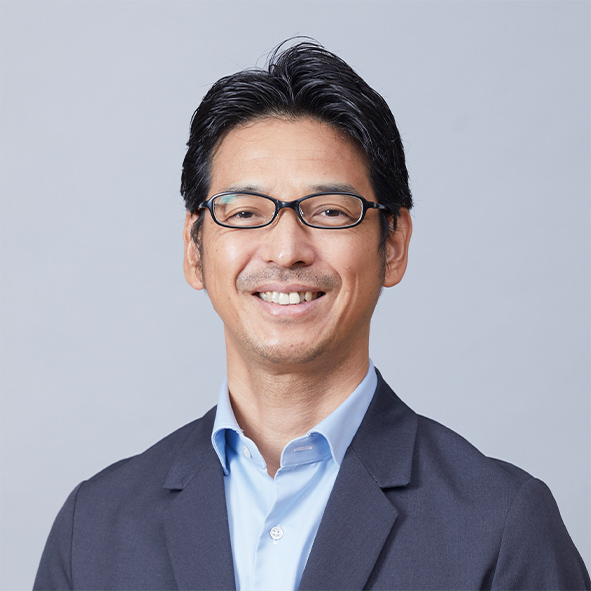 Masahiro Hasegawa
Media Business Unit
Media Business Group
General Manager,
Multiple Video SERVICE
Distribution Division
More and more customers are enjoying both TV and the internet.
To satisfy their demands, our Distribution Division is in charge of planning new video experiences and business promotion. Here are three primary examples.The first is a free distribution service for SKY PerfecTV! subscribers that allows viewers to enjoy TV programs on mobile applications and PCs. We aim to improve convenience and satisfaction for SKY PerfecTV! subscribers. Currently, professional baseball and soccer livestreams are very popular. We plan to expand the lineup and update the service to make it more convenient in 2022.Second is "SPOOX." "SPOOX" is a paid subscription service available to everyone.The name of the service is a coined word created by combining SP (SKY PerfecTV! ), oo (infinity), and X (the unknown). It was chosen to express the idea of "a place where we continuously strive to create new value." In February, we began offering an all-you-canwatch package featuring approximately 30,000 different items of content (Value Plan) in collaboration with NTT Plala Inc. (now NTT DOCOMO, Inc.). Also, in collaboration with FreakOut, Inc., advanced ad serving capabilities will be added in 2022. SPOOX aims to provide a unique content experience. Third is "Connected TV (CTV)." "CTV" is a distribution service that allows users to watch multiple video services all on the same internet-connected TV (including external devices). Preparations are currently proceeding at a rapid pace as we look toward the launch of CTV services next fiscal year. We are aiming to be a unique hybrid platformer that combines both satellite and CTV platforms. We hope you look forward to the future of the SKY PerfecTV! service as it continues to expand and evolve!