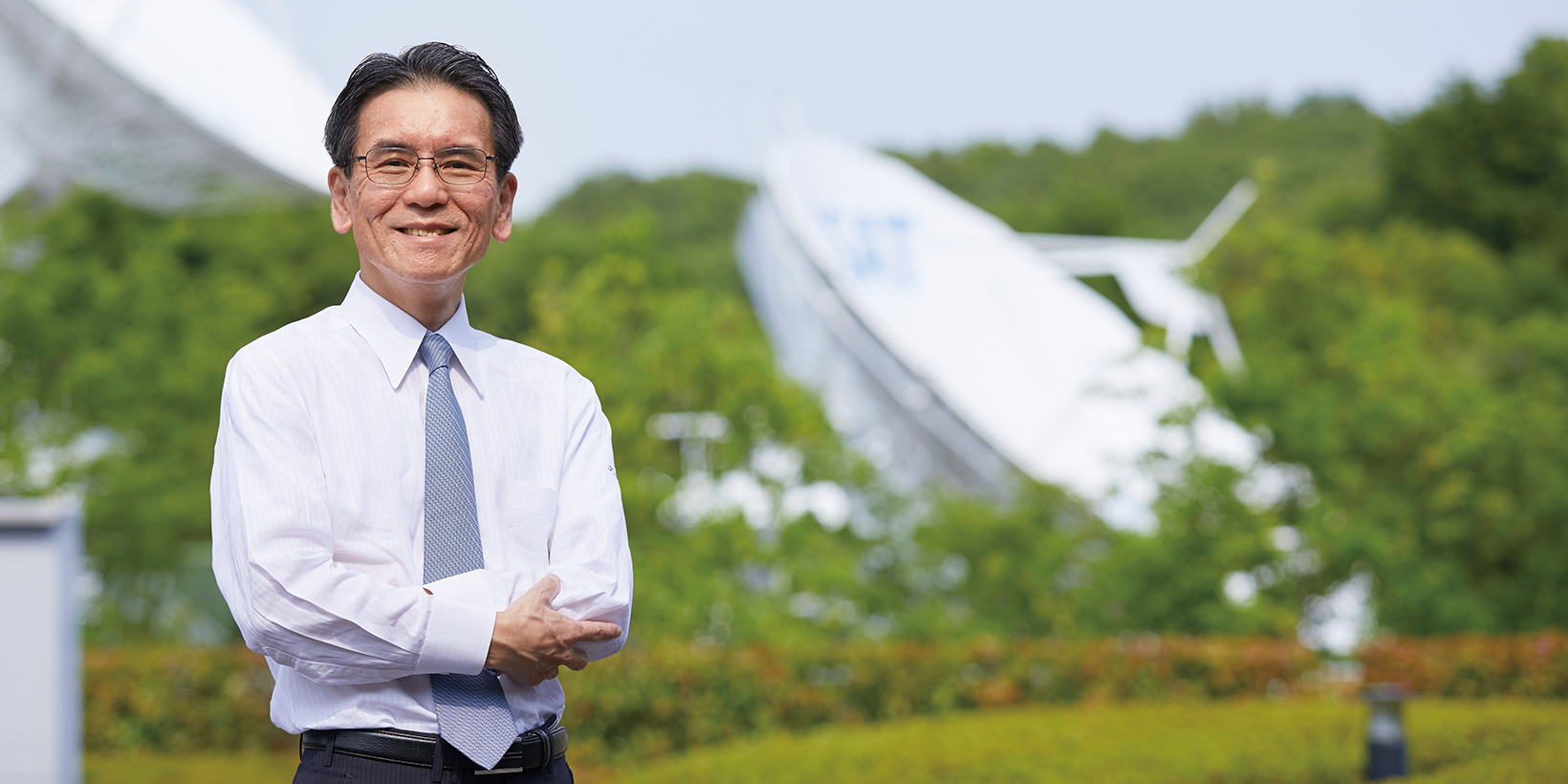 We will tap into the growing market
of the communications business while also developing new domains beyond communications services provided by geostationary satellites.
Board Director
(Unit President, Space Business Unit, SKY Perfect JSAT Corporation)
Business Climate
Our mainstay services of satellite communications in the geostationary orbit (GEO) are supported by stable and strong demand in Japan, mainly from government agencies that use the services for disaster contingency planning. In the medium- to long-term, demand is trending upwards for mobile satellite communications on shipping vessels and aircraft and for backhaul lines for mobile phone base stations. However, as the COVID-19 pandemic has caused airlines to cancel or reduce a string of flights all over the world, demand has temporarily fallen for satellite lines for in-flight Internet access, which had been considered a growth driver. Japan, however, is not our sole business domain; we also have businesses in all of Asia, Oceania, Russia, the Middle East, Hawaii, and North America. In overseas markets, the growing use of High Throughput Satellites (HTS), which offer high speed, large capacity, and low unit cost per bandwidth, is intensifying competition with global satellite operators over customers and prices.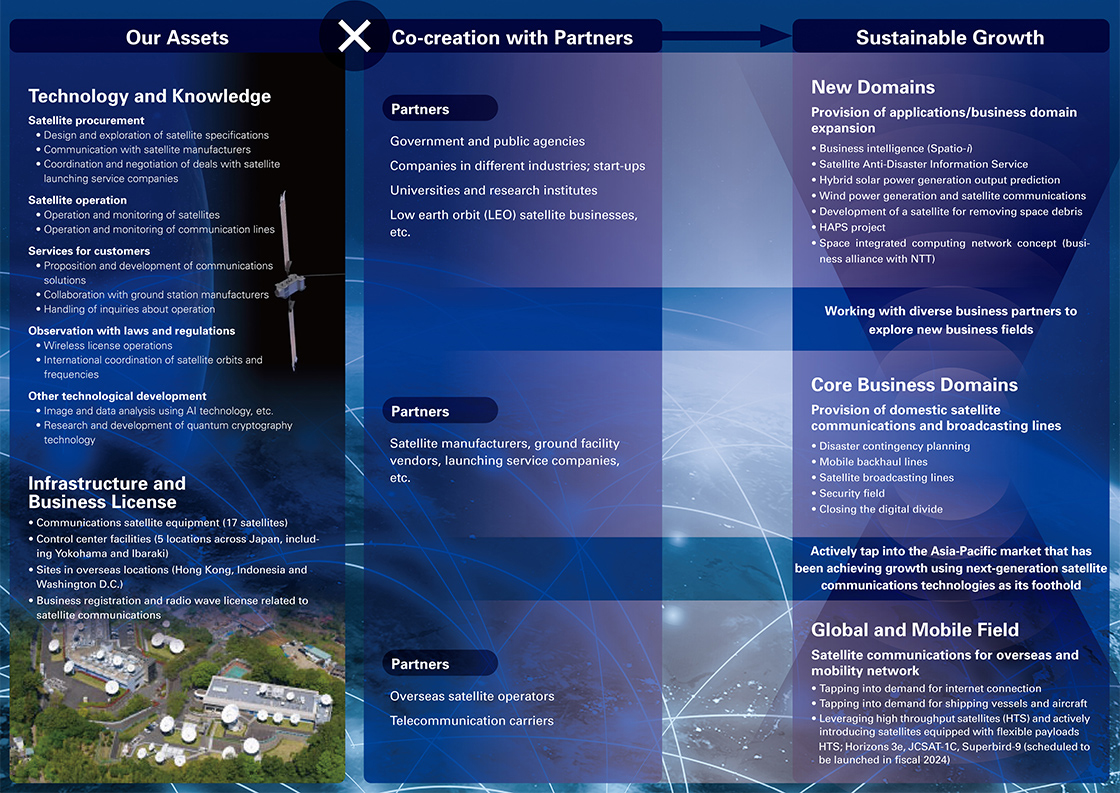 Review of Fiscal 2020
In fiscal 2020, the Space Business increased operating revenues by ¥5.4 billion year on year to ¥58.9 billion, operating profit by ¥0.9 billion to ¥13.8 billion, and segment profit after tax by ¥1.4 billion to ¥9.4 billion. Although we had initially anticipated that COVID-19 would cause a steep drop in demand for aircraft Internet access lines, we were able to keep the impact to a ¥1.1 billion decrease in earnings. JCSAT-17 started a service under a long-term contract with NTT DOCOMO, INC., which contributed to stable earnings throughout the year. In addition, Horizons 3e, an HTS and a joint satellite with Intelsat, Ltd., commenced service in February 2019 and has since steadily acquired new customers mainly in the Asia-Pacific region. This too contributed to increasing revenues. As a result, the Space Business as a whole was able to generate profits far exceeding the initial plan.
Furthermore, with the aim of expanding our business and strengthening our competitiveness in overseas markets, we stepped up sales activities for JCSAT-1C, our second HTS which entered service in January 2020, and reached a new large contract for providing JCSAT-1C service in Indonesia.
Outlook for Fiscal 2021
We project operating revenues of the Space Business to increase by ¥1.1 billion year on year to ¥60.0 billion, operating profit by ¥1.7 billion to ¥15.5 billion, and segment profit by ¥1.6 billion to ¥11.0 billion. The two HTS satellites, Horizons 3e and JCSAT-1C, which are capable of large-capacity communications, will be the drivers of earnings growth in fiscal 2021. We can expect these satellites to increase demand for satellite connections in growing markets, mainly in Asia and the Pacific. In particular, we can expect expanded use of the HTS satellites in the medium- to long-term in the field of mobile satellite communications, such as on aircraft and shipping vessels. Following on from the contract signed with a major customer in Indonesia, we aim to win new JCSAT-1C contracts in Russia and the Far East. In addition to satellite communications services, we will promote the space intelligence business, which provides solutions using various geospatial data, such as optical imagery acquired by satellites, synthetic aperture radar satellite imagery, and location information. We will also aggressively develop new business domains through active collaboration with partners in different industries.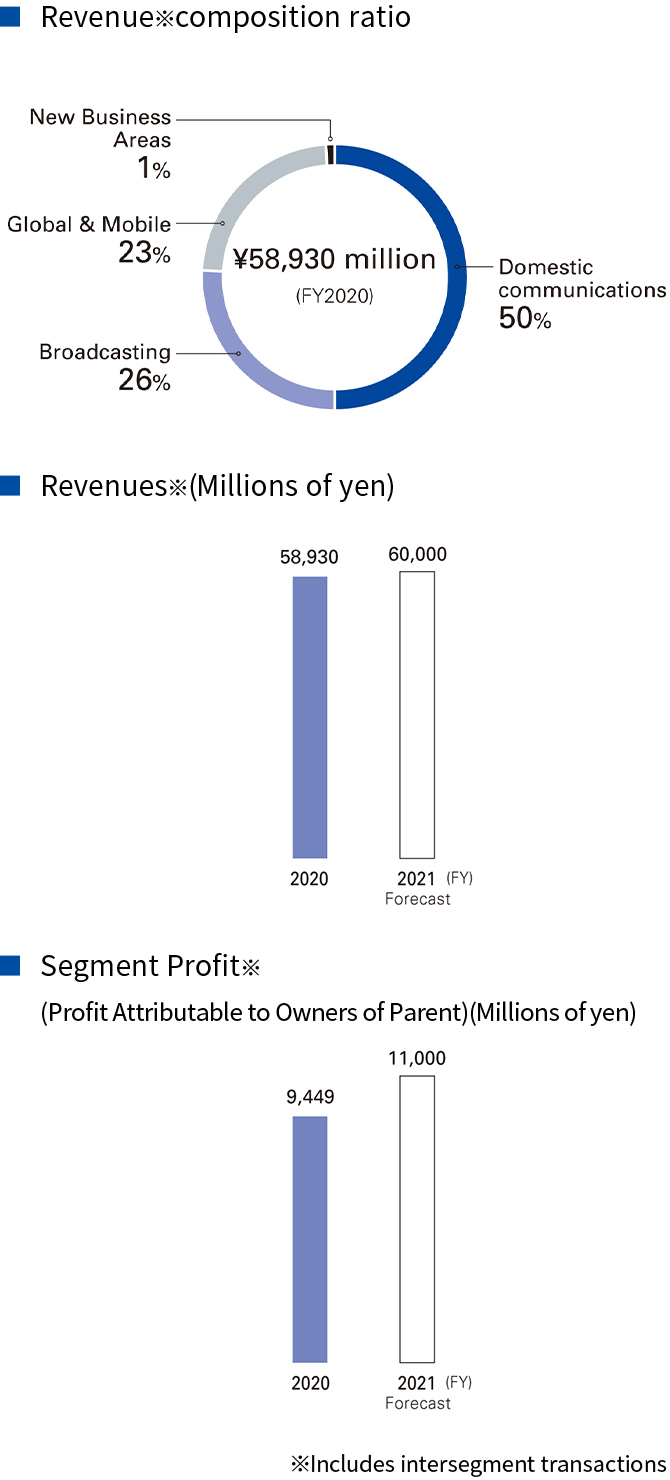 Business Vision and Business Strategy
The Space Business has reached a major turning point when considered from a medium-term perspective. The communications service using GEO satellites in which we have more than 30 years of experience is expected to grow in the global market. However, competition for customers with other satellite operators is becoming increasingly intense. In addition, as the term "new space" suggests, various companies are entering the space business, and the formation of a large-scale low earth orbit satellite constellation is in the works.
In this business environment, we are planning to launch Superbird-9 in the first half of 2024. It will be the successor to Superbird-C2, which is currently in operation, and Asia's first fully digital communications satellite. Superbird-9 will be equipped with the latest technology called "flexible payload," which enables flexible on-orbit changes of coverage area and transmission capacity in line with market and customer needs. It is capable of carrying out large capacity and highly flexible communications in Japan and other East Asian countries and is expected to meet diverse communications needs of the future.
In addition to our core business of satellite communications services, we are also aggressively pursuing innovation. Our Space Business vision is twofold. The first is to broaden our business domain to "spaces" ranging from the sea and ground up to deep space. For example, we aim to realize the HAPS project, which will fly a high-altitude unmanned spacecraft equipped with communications equipment in the stratosphere.
The second is to expand the space intelligence business that provides satellite data solutions. We have already initiated Spatio-i, a business intelligence service that combines satellite data with AI analysis, and have been awarded contracts to sell images taken by Planet Labs Inc.'s constellation of ultra-small earth observation satellites (microsatellites), which government agencies and the private sector can use for agriculture, disaster contingency planning, remote monitoring, and other purposes. We also partnered with Zenrin Co., Ltd. and Nippon Koei Co., Ltd. to launch the Satellite Anti-Disaster Information Service that predicts disaster risks. In addition, SKY Perfect JSAT Corporation was among the six companies that established Satellite Data Services Co., Ltd.
We will continue to broaden our collaboration with partners to turn intelligence services and other new domains into an earnings foundation accounting for more than 10% of our total earnings. The government's schedule for the Basic Plan for Space Policy articulates the use of private companies. We will seek to enter businesses under this plan, join government-led projects including in the defense sector, and expand our business in government satellite operations, observation, and monitoring services.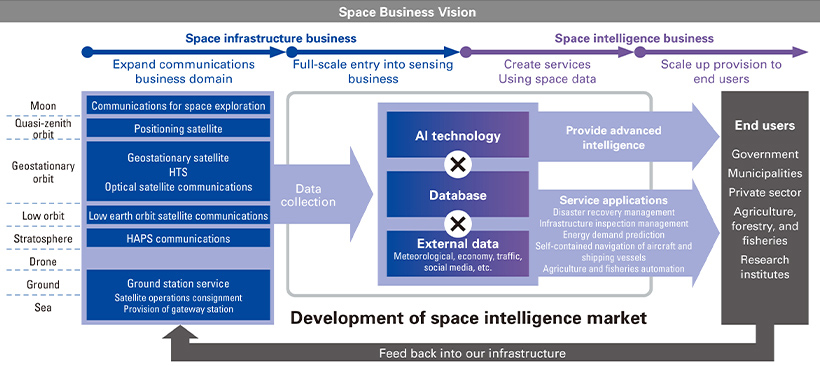 Providing Services in Line with the SDGs
Satellite communications is never interrupted, not even in a natural disaster. Lifeline companies and municipalities are therefore using satellite communications to serve as communications infrastructure for managing disasters and crises. Satellite communications helps protect public safety and security. Furthermore, it plays an active role in education and medicine and is indispensable in mountainous areas and on remote islands, aircraft, shipping vessels, and other places where it is difficult to use ground lines. The use of space as ICT infrastructure has become essential for the realization of a sustainable society. In May 2021, we formed a business alliance with Nippon Telegraph and Telephone Corporation (NTT) and announced the "space integrated computing network" concept. Our business broadens the possibilities of communications and turns sustainability into action. We will continue to provide sustainable services that look ahead to the next era.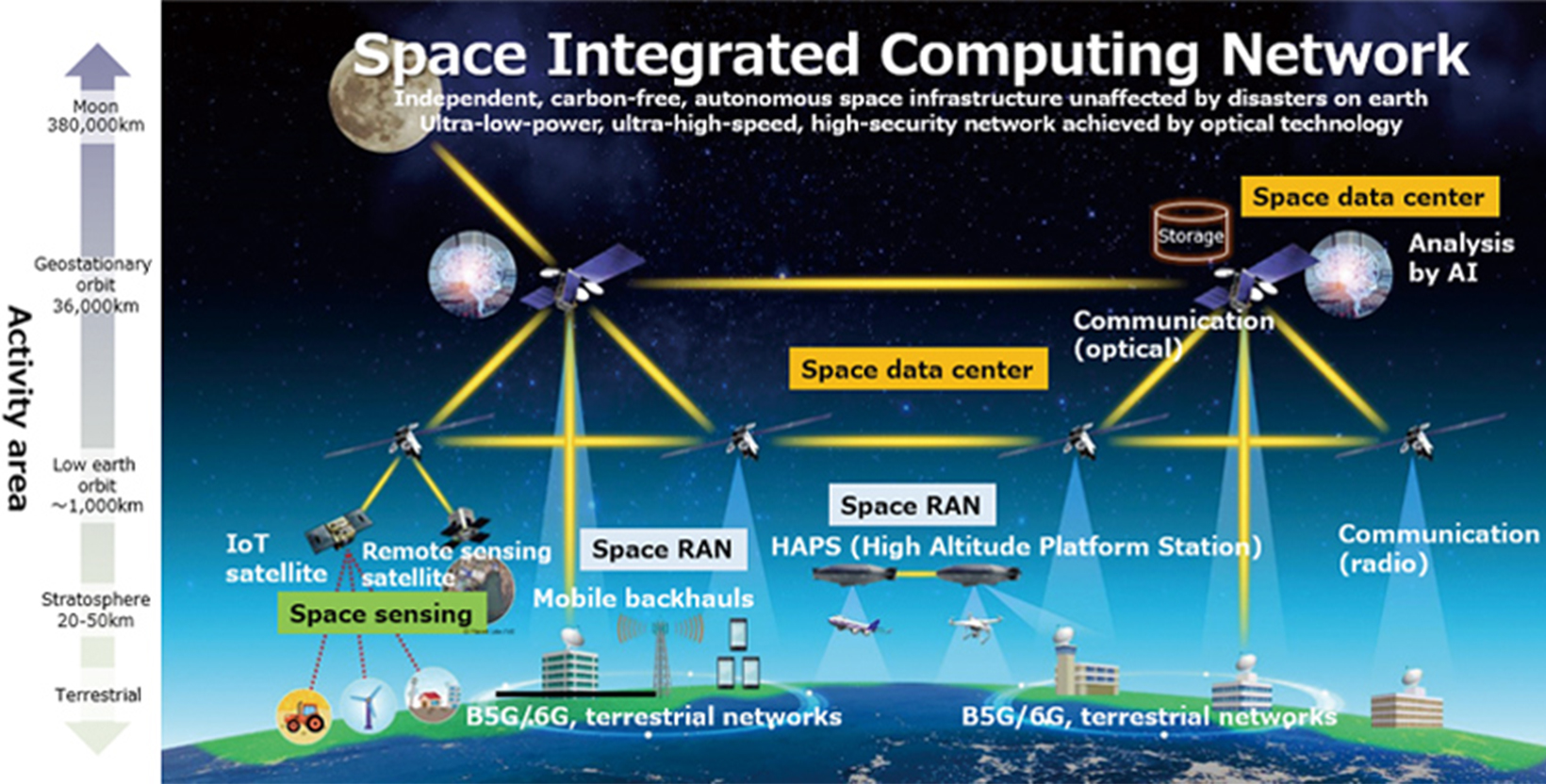 Space Intelligence for the Exploration of a New Space Business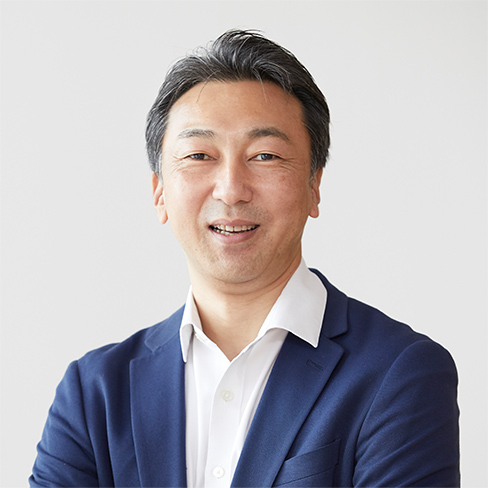 Hiroyuki Yagihashi
SKY Perfect JSAT Corporation Space Business Unit
Business Innovation Group
Head of the Space Intelligence
Business Division
The Space Intelligence Business Division works with partner companies in various domains primarily to develop new businesses that focus on the field of intelligence. We believe that the businesses we engage in not only help expand the use of data that are exchanged in the course of communications or observation, but serve as social infrastructure designed to prevent and mitigate disasters in Japan--a country prone to natural disasters--and to offer solutions to issues such as DX.
To give a specific example, one of the activities for these purposes is providing satellite data. Numerous start-ups are operating in the space business around the world, and their satellite circling the earth have excellent functions, delivering remarkable performance. This has enabled us to provide a wide array of data at affordable prices in a timely way for customers who range from government agencies, municipalities, private businesses, and farmers, among others. Many customers already use these data we offer. We currently offer seven types of satellite data from five companies (as of July 2021). We plan to further enhance our portfolio, and continue our efforts to provide "fresh" data that are even more evolved through optical satellites in collaboration with our network of ground stations and with NTT.
The second example is the cloud computing platform we have built to offer the information that customers need, coupled with the service brand Spatio-i. We not only move around the algorithms for analysis developed by our engineers, but actively use and provide everevolving technologies in order to offer the best solutions to issues facing customers by working with Orbital Insight. We will also leverage the Spatio-i platform for the Satellite Anti-Disaster Information Service that we work on with Nippon Koei and Zenrin as well as for Satellite Data Services' business, so that we will create an ecosystem that integrates and links a wide range of data.
SKY Perfect JSAT is long-established in the space utilization business, yet what we can do on our own is limited in the vast expanse of outer space. We work with our domestic and international partners to bring outer space closer to people on earth, fully committed to progressing toward the creation of a more enriching and safe society.